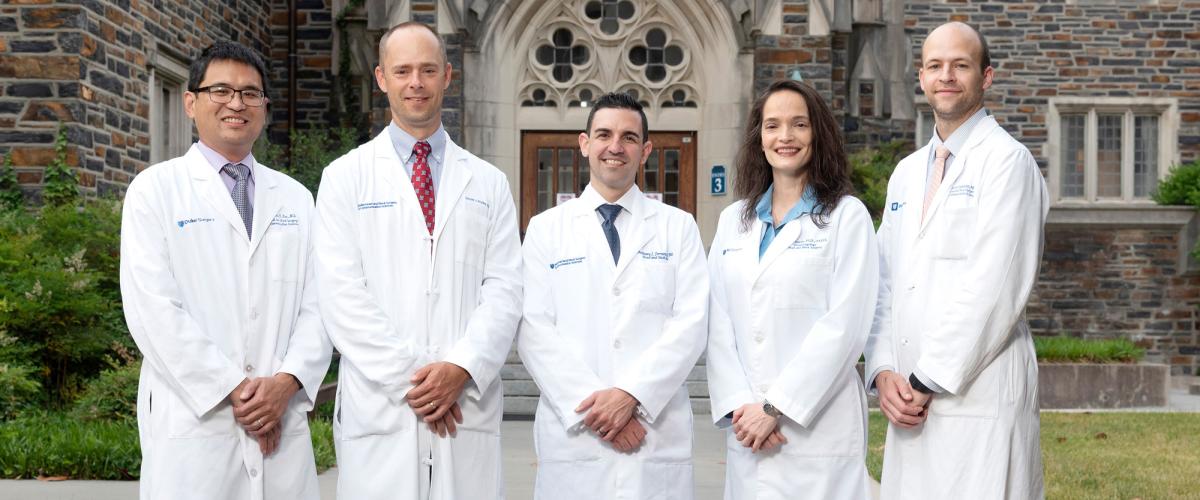 The Duke Department of Head and Neck Surgery and Communication Sciences offers several fellowships to train tomorrow's leaders in clinical research related to otolaryngology.
Head and Neck Fellowship
Duke offers a one-year American Head and Neck Society Advanced Training Council accredited Head and Neck Fellowship. 
The fellowship encompasses all aspects of H&N surgical and clinical care, allowing fellows to gain experience with traditional, laser and robotic extirpative techniques as well as microvascular and non-microvascular reconstruction. 
Rhinology and Endoscopic Skull Base Surgery Fellowship
The Duke University Rhinology and Endoscopic Skull Base Surgery Fellowship is a one-year program designed for those planning to pursue a career in academics or private practice. It provides comprehensive training in basic and advanced rhinology, endoscopic skull base surgery, and sinonasal oncology.
Speech Pathology Clinical Fellowship Year
As part of our educational mission, Duke Speech Pathology offers a year-long clinical fellowship (CF) position to speech-language pathologists who are pursuing certification by obtaining their Certificate of Clinical Competence in Speech-Language Pathology (CCC-SLP) through the American Speech-Language-Hearing Association (ASHA). Duke provides each CF with a mentor who will collaboratively work with them to follow the ASHA standards of certification and provide rigorous supervision, skill development, and documentation of requirements.
Availability of CF positions is dependent on Department staffing needs.