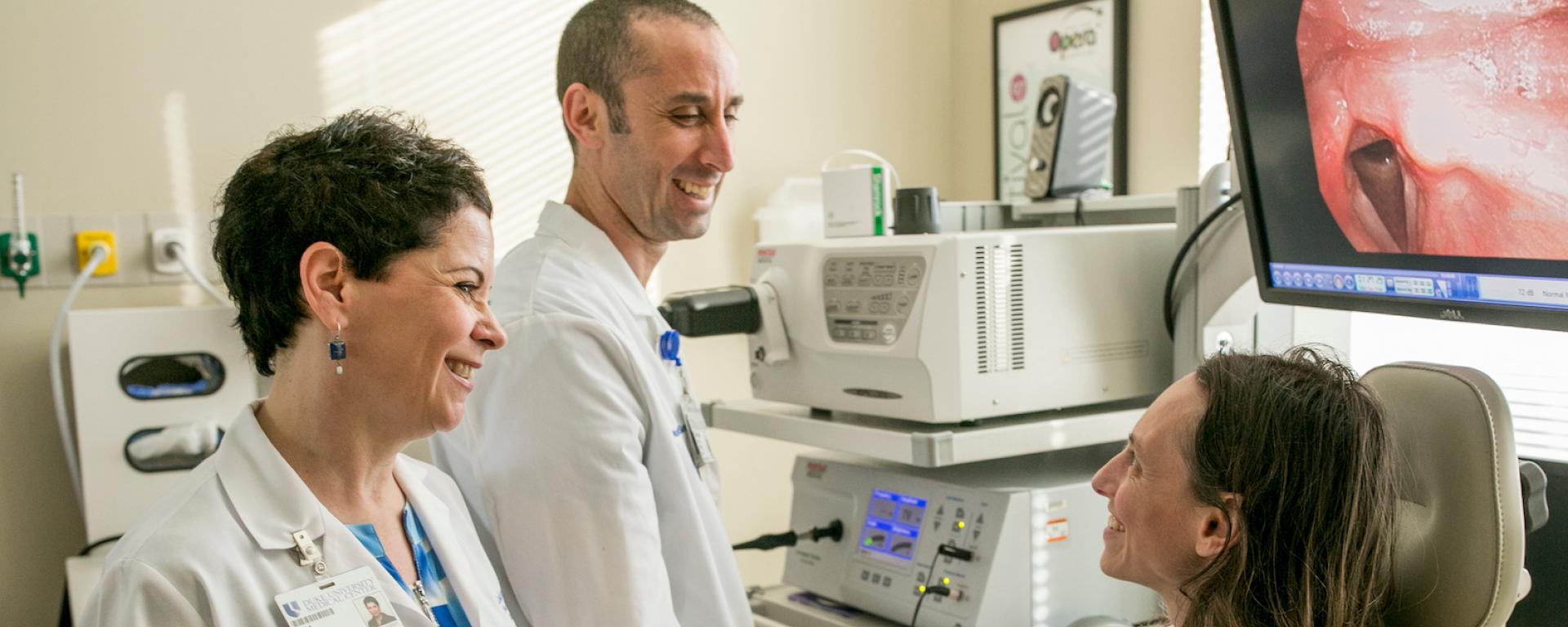 The Duke Department of Head and Neck Surgery & Communication Sciences offers highly skilled surgical expertise embedded in multidisciplinary, comprehensive and state-of-the-art care for the full spectrum of ear, nose and throat, head and neck and communication and swallowing disorders.
We team with different services in the medical system to provide complete and efficient care for you and your family. We are unique in that we are consistent members of several multidisciplinary teams, including Duke's Head and Neck Cancer Program, Skull Base Tumor Program, Vascular Malformation Team, Pediatric Aerodigestive Team, Duke Cleft and Craniofacial, the ALS Clinic, and the Parkinson's Clinic.
Duke Skull Base Center
The Duke Skull Base Center is a multidisciplinary program that offers comprehensive services  to treat tumors involving the skull base, including patients with acoustic neuromas, meningiomas, pituitary tumors, nerve tumors, ear masses, and other tumors. Our team consists of otolaryngologists, neurosurgeons and radiation oncologist, all dedicated to providing the most state of the art care. We provide unparalleled patient experience by engaging all patients with our nurse navigator who facilitates treatment through all phases.
Our endoscopic skull base surgery team offers minimally invasive endoscopic endonasal surgery for CSF leaks and tumors (benign and malignant) of the sinuses and skull base. 
Duke Voice Care Center
Duke Voice Care Center specialists are specially trained ear nose and throat physicians, speech pathologists and clinical singing voice specialists who work together to diagnose and treat voice disorders including laryngitis, vocal nodules, vocal polyps, and vocal cord paralysis. We treat adults and children who use their voice professionally and for everyday activities. 
Facial Plastics
As part of the Duke Aesthetics Center, our multidisciplinary facial plastics team offers a full spectrum of services within a state-of-the-art facility. Our goal is to balance form and function to accomplish a refreshed, rejuvenated, and balanced outcome. Services include surgery for nasal obstruction, cancer defects of the face following Mohs surgery, facial paralysis, and craniofacial trauma.
Head and Neck Tumors
Our multidisciplinary team has the expertise needed to treat complex tumors of the eyes, ears, nose, mouth, and throat, as well as skin tumors—both cancerous and benign. Duke is one of the country's premier centers for management of skull base tumors, including acoustic neuroma, meningioma, and glomus tumor. We also provide reconstructive surgery after treatment to improve function and aesthetics.
Otology and Audiology
Hearing specialists at Duke offer a range of options to diagnose and treat all types of hearing disorders, from mild to severe. Our research has helped to advance treatments for hearing loss, resulting in superior care and outcomes for our patients. Treatments range from hearing aids to ear tubes to cochlear implants.
Pediatric Otolaryngology
We provide comprehensive medical and surgical treatment for children with problems of the ear, nose, throat, and airway. This includes recurrent ear infections, sinus infections, and tonsillitis; hearing problems; voice disorders; deformities such as cleft palate; head-and-neck tumors; and problems associated with cystic fibrosis or weakened immune systems.
Sinus Infections and Nasal Disorders
Our clinical expertise is in all inflammatory disorders of the nose and paranasal sinuses, with a focus on revision surgery for chronic rhinosinusitis. Referred from throughout the region, many patients are treated successfully at Duke for severe and longstanding sinus problems. We also collaborate closely with colleagues at the Duke Asthma, Allergy & Airway Center and the Duke Cystic Fibrosis and Lung Transplant Center. We perform over 300 endoscopic surgeries each year.
Refer a Patient
If you are a referring physician or health care professional, we can help you find the right people, programs and services for your patients. Depending on the specialty needed, appointments can be made within 24 to 72 hours.