Brad Goldstein, MD, PhD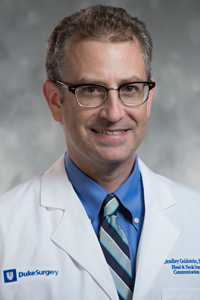 As a clinician-scientist, the goal of Dr. Goldstein's current research program is to study neurogenesis and tissue renewal in the olfactory mucosa, in an effort to begin to develop strategies to prevent or treat disorders that cause olfactory damage or loss. Disorders of the sense of smell are estimated to affect approximately >12% of Americans, with increased incidence in adults >65 years of age, and there are presently few treatment options available. In his clinical rhinology practice, he has particular interest in patients with smell and taste disorders. Dr. Goldstein is currently the principal investigator of a National Institutes of Health (NIH)-funded basic science laboratory, using mouse models, cell culture approaches, and human nasal tissue specimens. The lab utilizes multiple approaches to identify mechanisms regulating adult basal stem and progenitor cells in the olfactory epithelium, as well as olfactory tissue maintenance and renewal. The lab's overall goal is to understand the cellular and molecular mechanisms causing acquired human olfactory disorders, to facilitate the development of new treatments. Learn more about the Goldstein Lab. 
David W. Jang, MD & Ralph Abi Hachem, MD
The Rhinology and Endoscopic Skull Base Surgery clinical research program has a number of funded projects spanning from health services research to clinical drug trials. We also maintain a prospective data repository of our patients, allowing for outcomes research in both inflammatory and neoplastic conditions.
Our current projects include:
-Sinusitis and Migraines (Amgen, Inc)
-Health Services Research in CRS (Duke SCORES and Olympus Corp.)
-National Cancer Database for Sinonasal Malignancies
-Sinonasal and pulmonary outcomes in cystic fibrosis patients with lung transplant
-Computational fluid dynamics for nasal obstruction (collaboration with Dennis Frank-Ito, PhD)