Walter T. Lee, MD, MHS, FACS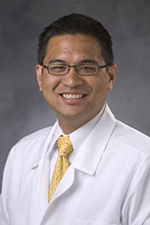 Dr. Walter Lee (Associate Professor) has a research focus on improving the delivery of value based health care in low resource settings, particularly through implementation of innovative devices. His research has been funded by internal (e.g. Duke BME and the Duke Global Health Institute) and external sources, most recently an R01 to implement a low-cost nasopharyngoscope in Vietnam. Dr. Lee also has an educational research focus on virtue-based leadership and professional development. This work has been adopted in the Duke University School of Medicine, Durham VA Medical Center, and throughout the Department of Head and Neck Surgery & Communication Sciences.
Nosayaba (Nosa) Osazuwa-Peters, BDS, PhD, MPH, CHES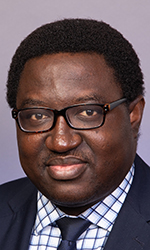 Dr. Osazuwa-Peters (Assistant Professor and Director of Clinical Research Training) uses a transdisciplinary lens in examining cancer epidemiology, population health and outcomes, and his work cuts across the spectrum of cancer prevention, early detection, control, survivorship and quality of life. In the last decade, he has investigated the population-based knowledge and risk factors associated with the human papillomavirus (HPV), HPV-associated head and neck cancer, and HPV vaccine. Currently, he is investigating psychosocial issues associated with head and neck cancer survival, specifically examining prevalence and risk factors associated with depression and suicide among survivors of head and neck cancer. He is currently also examining cancer-related minority health, health disparities and cancer health outcomes, driven by financial toxicity and access to care issues, such as health insurance status, and especially in the context of the Affordable Care Act and Medicaid expansion.
He has coauthored dozens of manuscripts/abstracts and presented his research at several national and international conferences. He is a member of the American Society of Clinical Oncology (ASCO), American Association for Cancer Research (AACR), the Multinational Association of Supportive Care in Care (MASCC), and several other national and international associations. He is an Associate Editor for Human Vaccines & Immunotherapeutics, and on the Editorial Board of Oral Oncology.
Tammara Watts, MD, PhD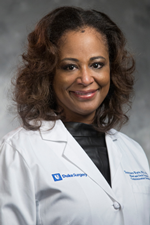 Dr. Watts' laboratory focuses on the pathophysiology of the tumor microenvironment in HPV-negative head and neck squamous cell carcinoma. Their long-term objective is to understand the bidirectional signaling mechanisms between mesenchymal stem cells (MSCs), oral cavity, and oropharyngeal cancer that governs epithelial to mesenchymal transition (EMT) along with elucidating how cancer cells render the stroma pro-tumorigenic, with the translational aim of designing stromal-based targeted therapy to improve cisplatin responsiveness in head and neck cancer.