Duke Head and Neck Surgery & Communication Science faculty are actively involved in global health research.
Walter T. Lee, MD, MHS, FACS
Dr. Walter Lee has a federally funded research program in global health based in Vietnam. His overarching work is focused on developing "1st world" technologies and innovations for low-resource settings. His current R01 NIH/NIDCR grant is focused on implementation of a low-cost nasopharyngoscope to better screen and triage head and neck cancer patients throughout the country. This is a collaborative effort between Duke-National University of Singapore, Duke University School of Medicine, and the industry partner Vivo Surgical. Other global work includes a research training collaborative between the Department of Head and Neck Surgery & Communications Sciences and the National ENT Hospital in Hanoi, Vietnam.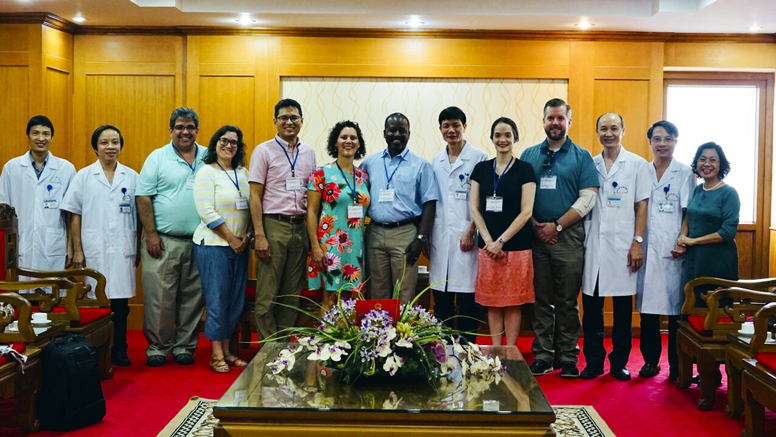 Duke–Hadassah ENT Global Health Symposium
In July 2017, the Duke Department of Head and Neck Surgery & Communication Sciences furthered its collaborative relationship with Hadassah Medical Center in Jerusalem through the co- sponsorship of the Duke–Hadassah ENT Global Health Symposium, the first otolaryngology conference organized by hospitals in two different countries. The symposium's mission was to promote the exchange of ideas between Israeli and American medical systems, to generate innovation in global health, to share new technologies, and to foster cross-cultural approaches to patient management.
Additional Projects
Additional projects in global health include:
Improving head and neck cancer screening through a low cost fiberoptic scope and providing solar powered hearing aids to low income children (Vietnam)
Several of our residents have been awarded the American Academy of Otolaryngology-Head and Neck Surgery Resident Travel Award for various humanitarian work in Africa, Asia, and Central America.