As part of the Duke Skull Base Center, the endoscopic skull base surgery team offers minimally invasive endoscopic endonasal surgery for CSF leaks and tumors (benign and malignant) of the sinuses and skull base.
Our team is consists of fellowship-trained otolaryngologists and neurosurgeons who have successfully performed hundreds of these operations.
We also enlist the help of neuroradiologists, radiation oncologists, medical oncologists, and endocrinologists through our participation in the Head and Neck Multidisciplinary Tumor Board and the Multidisciplinary Pituitary Conference. Through a team effort facilitated by a dedicated nurse navigator, all patients, including those traveling from out of town, will benefit from closely coordinated care.
The types of tumors we treat include but are not limited to:
Pituitary adenoma
Chordoma
Esthesioneuroblastoma (Olfactory neuroblastoma)
Meningioma
Sinonasal undifferentiated carcinoma
Chondrosarcoma
Cholesterol granuloma
Adenoid cystic carcinoma
Adenocarcinoma
Squamous Cell Carcinoma
Mucosal Melanoma
Inverted Papilloma
27 year-old man with right nasopharyngeal high-grade adenocarcinoma with ICA involvement before and after endoscopic nasopharyngectomy with craniotomy and internal carotid resection and bypass.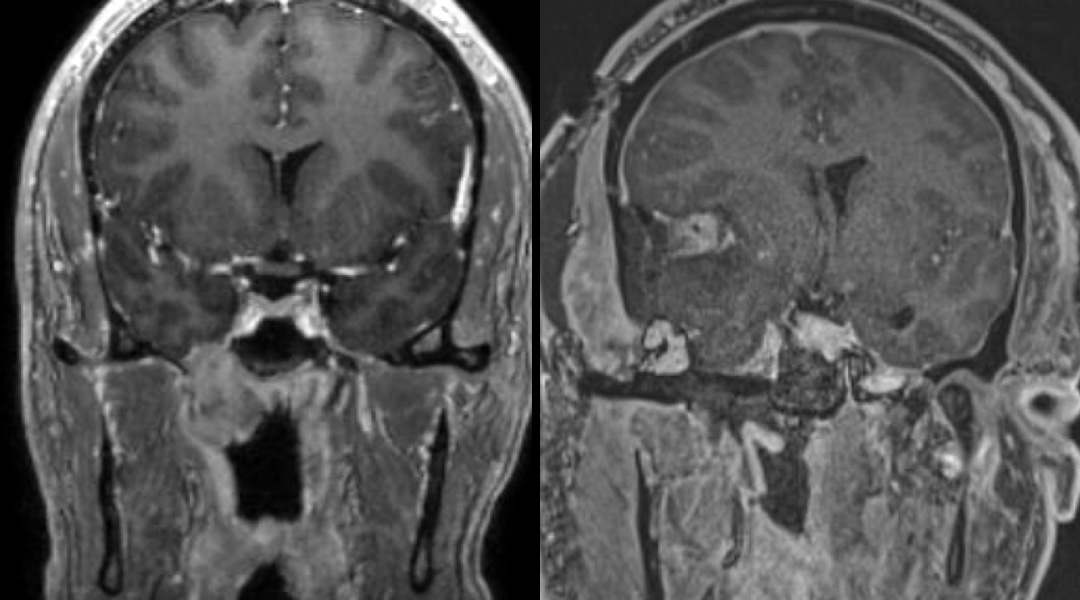 65 year-old woman with previously irradiated petroclival chondrosarcoma before and after endonasal endoscopic resection with staged lateral transmastoid approach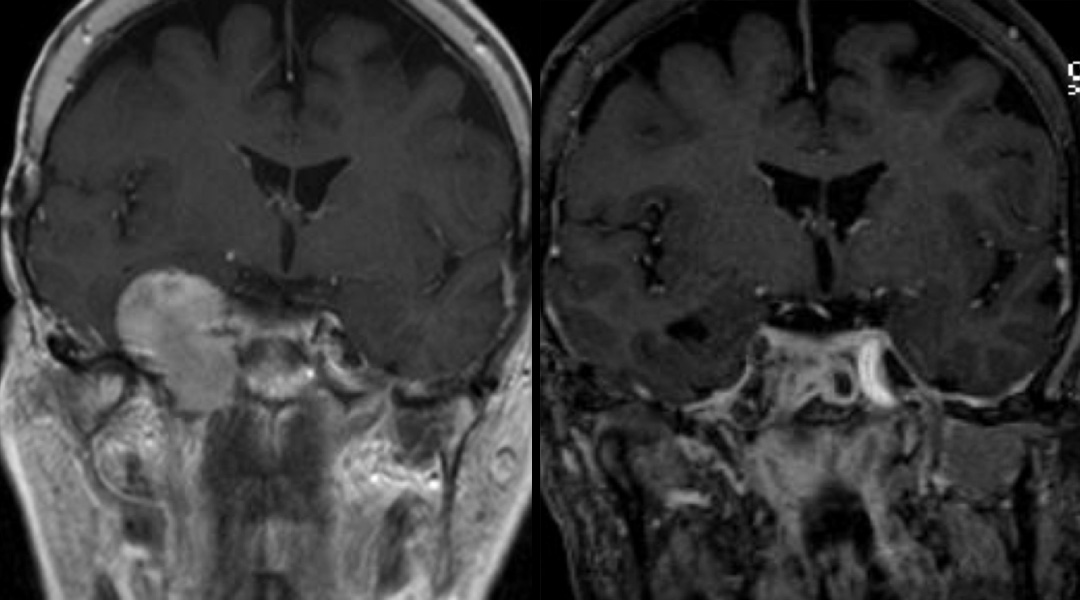 37 year-old man with sinonasal undifferentiated carcinoma before and after endoscopic resection and skull base reconstruction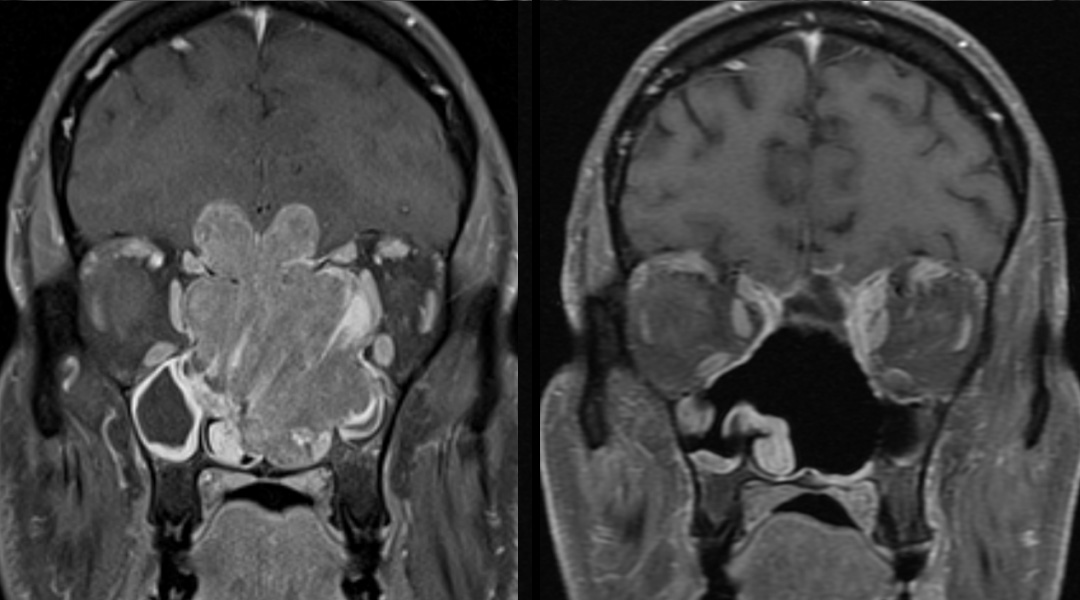 63 year-old man with 5 cm olfactory groove meningioma before and after endoscopic gross total resection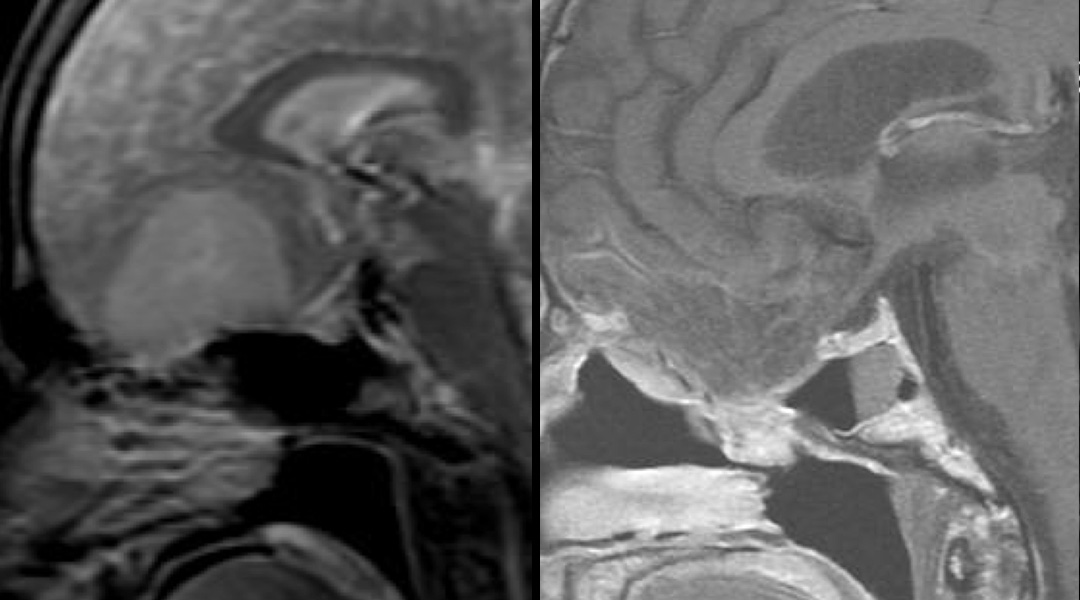 Patient with pituitary macroadenoma before and after gross total endoscopic resection