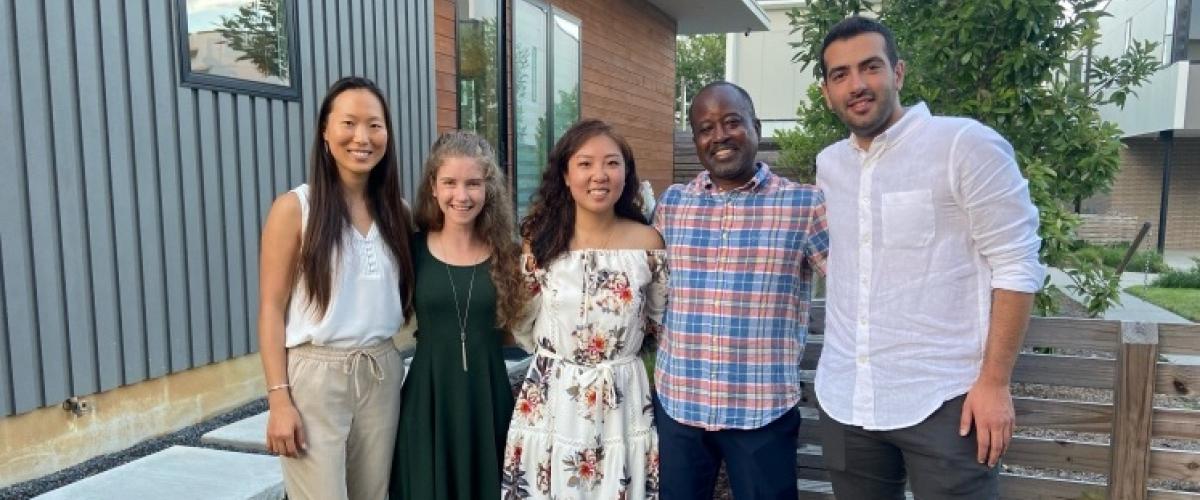 Our residency program includes extensive exposure to the medical and surgical management of all facets of our specialty. The hospitals involved in the training program include Duke University Medical Center, Duke Raleigh Hospital, Duke Regional Hospital, and the Durham VA Medical Center.
One of our missions is to promote virtuous professional development, collaboration, and leadership. This is done through explicit activities and endeavors based on the core values/virtues of Initiative, Integrity, Self-Discipline, Compassion, and Accountability.
We have two separate match codes for our residency programs: one for a conventional 5-year track and one for an NIH R25 surgeon-scientist training pathway.
5-Year Conventional Track
The 5-year residency program consists of 4.5 years of OHNS training and 6 months of related disciplines. Our program offers a wide exposure in benign and malignant tumors of the head and neck, neurotologic surgery, facial plastic and reconstructive surgery, maxillofacial trauma, sinus surgery, pediatric otolaryngology, and the broad scope of general otolaryngology surgical procedures.
Head & Neck Cancer
Dedicated rotations occur PGY-2 through PGY-5. Comprehensive management of the head and neck for benign and malignant disease, endocrine surgery, and microvascular reconstruction are performed on this service. Operative experience is graduated, advancing based on resident knowledge and ability. Multidisciplinary care is provided through weekly tumor board conference. Didactics are provided on a rotating basis throughout the academic year.
Otology​ and Neurotology
Residents rotate through this service PGY-1 through PGY-5 years with graduated responsibility under the guidance of three fellowship-trained otologist/neuro-otologists. All aspects of the subspecialty are covered including chronic ear disease, cochlear implants, and complex skull base surgery. Didactics are held throughout the year that include case conference, temporal bone dissection, and audiology and vestibular testing and interpretation. Our brand new temporal bone lab opened in Fall 2016. Learn more about Duke's Vestibular Care Center.
Pediatric Otolaryngology
Rotations occur with dedicated block time during the PGY-2 year. There is comprehensive coverage of laryngology, bronchoesophagology, rhinology, otology, head and neck, and communication disorders. Specific examples of exposure include pediatric airway disease, sleep-disordered breathing, otologic conditions, sinusitis, as well as benign and malignant tumors of the head and neck. Multidisciplinary care is often emphasized with interaction with multiple services including formal cleft board and vascular malformation board. Case conference and lectures occur on a rotating basis throughout the year.
Facial Plastics & Reconstruction 
Rotations occur during the PGY-1 through PGY-5 years. Exposure includes facial cosmetic surgery (browlift, blepharoplasty, rhinoplasty, and facelift), functional nasal surgery, facial reconstruction following Mohs micrographic surgery, medical/surgical management of facial paralysis, and treatment of craniofacial trauma. Didactics include case conference, quarterly lectures, cadaver lab, and injection clinics. The craniomaxillofacial rotation during the PGY-3 year is a dedicated multidisciplinary approach to facial trauma.
Allergy
Rotation on this service occurs at our Raleigh location. Exposure includes work up and management of environmental allergies with immunotherapy. Residents also attend an allergy course for additional training during their residency. 
Laryngology
Residents rotate through this service PGY-1 through PGY-5 years with graduated responsibility. Residents work with speech pathologists and the Duke Voice Care Center (DVCC) to learn and provide comprehensive laryngology patient care. Didactics include DVCC grand rounds, journal clubs and lectures. Learn more about Duke's Vestibular Care Center.
Rhinology and Endoscopic Skull Base Surgery
Resident training in rhinology and endoscopic skull base surgery consists of two dedicated rotations during the PGY-2 and PGY-4 years. During these rotations, residents become adept at primary and revision functional endoscopic sinus surgery, as well as endoscopic skull base surgery. Formal didactics include quarterly lectures, monthly rhinology case conference, and an annual cadaver dissection course. In addition, a newly renovated dissection lab with endoscopic capabilities is available on campus. Residents are exposed to additional rhinology training during rotations at the Durham VA hospital and Duke Raleigh Hospital.
General
Rotations occur with our Raleigh faculty during the PGY-3 year. The general practice aligns well with what a resident might anticipate if interested in a career in private practice.
Sleep Surgery
Duke Otolaryngology plays an integral part in the treatment of patients with snoring and obstructive sleep apnea. As part of our multidisciplinary Sleep Disorders Center, we provide care collaboratively with Neurology, Pulmonology, Psychiatry, Bariatric and Weight Loss Surgery, and Primary Care. Trainees will have exposure and become well versed in targeted, effective surgical treatment to improve health and quality of life. 
Research
Our mission is to foster an environment of inquiry to ultimately improve patient care. Residents are expected to participate in research throughout their training.
We offer opportunities to participate in clinical research and basic science research in a variety of topics. Residents are expected to complete at least two research projects culminating in oral presentations and written manuscripts (submitted to peer-reviewed journals).
Each resident is required to complete a major research project for which a grant application for extramural funding is submitted. This provides valuable experience in grant writing. Guidance is provided by faculty and research mentors, but the resident is ultimately responsible for the entire project.
We help create an individualized curriculum, so you can achieve educational goals as you plan and execute your research project. 
Educational Opportunities
As medical students progress through their cadaveric dissection of head and neck anatomy, Duke faculty and trainees are given the opportunity to give didactic lectures and guide learners in the nuances of head and neck anatomy and its correlates to surgery and disease states.
In collaboration with the ENT Interest Group leadership, faculty and trainees offer skills courses throughout the academic year to MS1 through MS4 students. These includes suturing, ear examinations, fiberoptic laryngoscopy, airway management, head and neck exam, mentorship and interview skills, and research.
Read the Resident Handbook (DOC) to learn more about resident training objectives and goals.