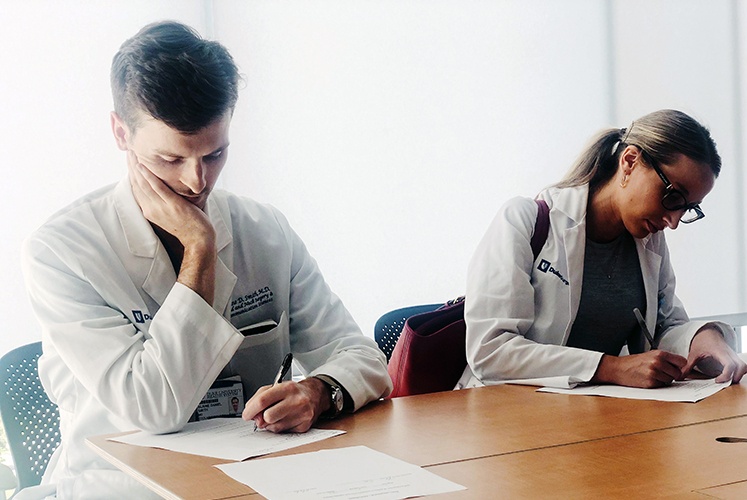 We appreciate your interest in the Duke Otolaryngology - Head and Neck Surgery residency program.
We participate in the National Resident Matching Program (NRMP) and only accept applications through the Electronic Residency Application Service (ERAS). We do not require any additional data other than that required by ERAS. Letters of recommendation are limited to four, with at least two in an otolaryngology discipline.
Please note that incomplete applications will not be reviewed, therefore be sure all of the requested information is submitted in a timely manner.
Our program's application deadline for every Match cycle is October 24.
Our virtual interview process is usually one day, including a virtual social event with current residents and faculty. If you have been granted an interview, you will be notified via the e-mail address you provided through ERAS.
Each year, a total of four medical school graduates are selected for entry into the five-year residency training program.
Learn more about the Duke Otolaryngology Residency Program by visiting @Duke_Oto on Twitter.
Candidate Selection Priorities
Duke strives to select residency applicants who possess qualities that the faculty believe are necessary to become physician leaders. These qualities include initiative, integrity, self-discipline, compassion, and accountability.
We believe great leaders possess the ability and passion to recognize and support others' interests and needs in accomplishing a common mission. Learn about our focus on leadership development.
Travel and Hotel Information
We recommend flying into Raleigh-Durham International (RDU) airport. It takes about 20-30 minutes to drive from RDU to Duke University Hospital. 
Durham also has an Amtrak station if you prefer the train. The train station is located in downtown Durham, a little over two miles from Duke University Hospital.
Many hotels are located near Duke University Hospital and some offer special rates for Duke. See nearby hotels.
Program Contact
Lori Allsbrook
Residency Coordinator
Phone: 919-681-6588
E-mail: lori.allsbrook@duke.edu