Welcome to the Division of Pediatric Otolaryngology Website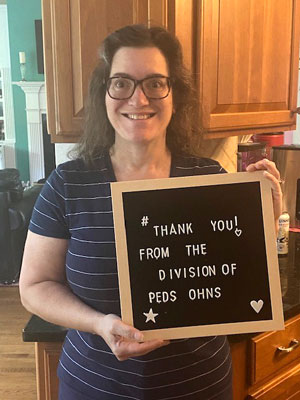 We thank you for taking the time to visit our website and find out about our vibrant and innovative division. Our team is dedicated to the care and management of infants, children, and teenagers with all aspects of Otolaryngology (ENT) Head and Neck Surgical concerns. We work in a cohesive, multidisciplinary manner to ensure excellence in treatments and outcomes. We believe in patient and parent engagement throughout the care plan and utilize our Child Life team members to assist with situations that may produce anxiety for the child or the family. Our philosophy focuses on the entire care team with the patient and family being the central and most important aspect of that team.
We are actively involved with our HNS&CS residents and fellows to provide education and research opportunities within Pediatric Otolaryngology. Our faculty serve as mentors for third-year medical students at Duke, and we also are excited to work with trainees in other specialties. 
Our team is engaged in a variety of research studies and community service projects and are open to suggestions and opportunities for areas of investigation.
Please explore the links to the services we provide, the conditions we manage, and to find out more about our research and outreach opportunities.
Feel free to reach out to us for any questions or comments.
Sincerely,
Eileen Raynor, MD, FACS, FAAP
Chief, Division of Pediatric Otolaryngology
Duke Head and Neck Surgery & Communication Sciences