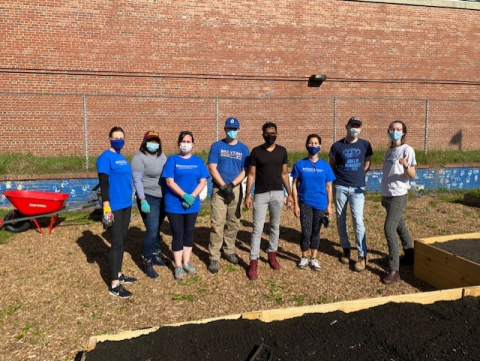 Photo above: Members of the Duke HNS&CS team volunteering at one of the Durham community gardens
Duke FEMMES
In early spring 2020, Eileen Raynor, MD, Chief, Division of Pediatric Otolaryngology, and Janet Lee, MD, Assistant Professor of Head and Neck Surgery & Communication Sciences, participated in Duke FEMMES: "Females Excelling More in Math, Engineering, and Science." Two hundred 4th–6th grade girls from underserved areas of the Triangle region learned knot-tying and suturing techniques in a "Surgical Skills" station. They also learned about the physiology of hearing and the anatomy of the ear while using video-otoscopes to examine each other's ears.
Volunteering With Activate Good
In fall 2020, the Duke Department Head and Neck Surgery & Communication Sciences (HNS&CS) began a partnership with Activate Good to provide volunteers to help causes in our local community. To date, HNS&CS faculty, staff, friends, and family have volunteered for six events in Raleigh and Durham, including food banks, community gardens, and school projects. We are renewing our partnership for 2021.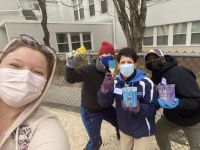 Inspiring Young Minds
Another important partnership development is with Duke BOOST: Building Opportunities and Overtures in Science and Technology. BOOST is a multidimensional STEM education program, serving Durham Public Schools students in 5th through 8th grades. The program is designed to excite young people about the sciences, build their confidence, and inspire them to pursue careers in medicine and related fields. BOOST serves young people who are underrepresented in the sciences, including African-American, Latinx, and Indigenous students; girls; and kids from economically challenged backgrounds. BOOST strives to create a fun, supportive environment where students are encouraged to be curious about the world around them. HNS&CS faculty and staff members will participate in Science Saturday—a live virtual event—April17, 2021, and will also collaborate with the BOOST team on two video projects with a goal of inspiring underrepresented minorities to get excited about pursuing STEM as an academic or career pathway.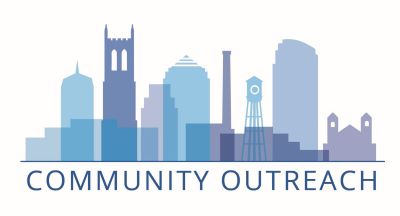 The COVID-19 Effect
When COVID-19 arrived in North Carolina, the Department had to cancel all our planned in-person events. We quickly pivoted to virtual formats and are pleased to say that COVID hasn't kept us from sharing important health information and opportunities with our community!  Attendance at these events has exceeded our expectations and they have been so well-received that we will likely include a virtual option for our community engagement offerings even after we are able to gather again. The silver lining in holding these events virtually is that we have been able to reach people who would never have been able to attend a local event, with participants from around the country and beyond!
Duke Voice Care Center and Duke Hearing Center Pivot to Virtual Formats:
Tinnitus Assessment and Management, presentation for the Acoustic Neuroma Association, August 26, 2020. 
Duke HEARS parent workshop on Family Resiliency, September 19, 2020. 
Singing Voice Health During COVID-19 and Beyond. Two part workshop collaboration with Duke Chapel, September 23 and October 14, 2020. 
Virtual Walk4Hearing, October 11, 2020. 
Getting to Know Your Voice: Vocal Anatomy and the Science of Sound for Wake County 6th graders, November 11, 2020.
Let's Talk About It: Keeping Our Voices Strong. Wake County Senior Center, November 12, 2020. 
Ask the Experts: Q&A Panel on Vocal Health for Singers. In collaboration with High Point University, December 8, 2020.
Vocal Health for Choral Singers: Cincinnati May Festival Youth Chorus. In collaboration with Blaine Block Institute, December 20, 2020.
Gender-Affirming Vocal Skills group February and March, 2021. This 8-week series provides a safe and affirmative space for our transgender, non-binary and gender diverse patients to practice communicating with their voices outside of speech therapy sessions.
More events are coming up soon!
Virtual World Voice Day: Your Voice is Essential, April 28, 7–8:30 PM.
Hearing Loss Association of America (topic TBD), May 20, 2021.
Duke HEARS 2021 will be held in October 2021 in person at the Museum of Life and Science, and also in a virtual format.
Walk for Hearing, Fall 2021.
Give to Duke Head and Neck Surgery & Communication Sciences
A gift to the Department of HNS&CS is a gift of knowledge, discovery, and life.