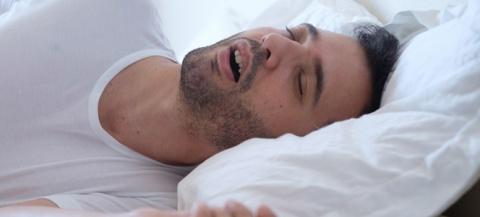 Since 2017, when Duke became the first center in North Carolina to offer hypoglossal nerve stimulator (HGNS) implementation, the demand for this method to treat moderate to severe obstructive sleep apnea (OSA) has increased dramatically. As a Duke otolaryngologist, Russel R. Kahmke, MD, MMCi, FACS, says that 50% of his practice has become dedicated to evaluating and treating snoring and obstructive sleep apnea, but there is still a significant population of patients across the country with this condition who are not being treated or do not like their current treatment.
The implanted device (Inspire Medical Systems, Inc.: Minneapolis, MN)—which is often sought out as an alternative to continuous positive airway pressure (CPAP) therapy—works by electrically stimulating the hypoglossal nerve, causing timed tongue movements to relieve upper airway obstruction during sleep. Kahmke notes that while this option is not appropriate for everyone, it has helped more than 50% of his patients achieve an Apnea Hypopnea Index (AHI) score of zero—essentially curing their obstructive sleep apnea—and 97% report seeing some benefit.
In this Q&A, Kahmke explains how this treatment option compares with other surgical interventions, which patients are appropriate to refer for HGNS, and how he sees this technology evolving in the future.
Read the full article in Clinical Practice Today:

"CPAP Alternative Improves Outcomes for Obstructive Sleep Apnea"

Lindsay Kenton, Duke Health

December 15, 2020
Give to Duke Head and Neck Surgery & Communication Sciences
A gift to the Department of HNS&CS is a gift of knowledge, discovery, and life.