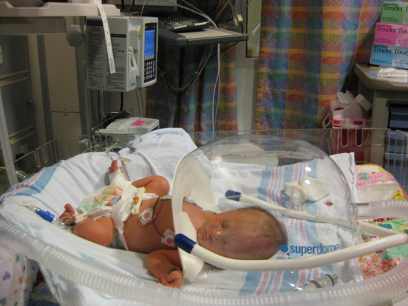 Photo to the Left: A newborn baby in NICU right after birth.
Anticipation. It is the most felt emotion on the way to labor and delivery. This little bundle of joy has been talked about, prayed over, sung, and read to as soon as the family knew it was on the way.  Finally, the big day and all is well—until "What, wait, say that again? Did we hear this correctly?" 
The words send so many questions and thoughts spiraling through their heads: "Your baby failed their newborn hearing screen."
How did this happen? Will my baby ever hear? Will they learn to talk and communicate?
The most likely culprit is cytomegalovirus (CMV).
Key Facts About CMV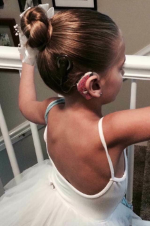 CMV is a very common virus, which most people have been exposed to during their early adult years. However up to 90% of expecting mothers have never heard of it.
CMV is preventable: spread by saliva, tears, body fluids, and is frequently spread by young children in daycare or preschool to their pregnant mothers.
Congenital CMV (cCMV) is the leading cause of hearing loss in children that is non-genetic (not inherited from parents).
Children who were exposed to CMV during the first trimester of pregnancy are most likely to have cCMV, but the majority do not have any symptoms at birth.
cCMV usually caused very mild or no symptoms in the pregnant mother. Symptoms are usually similar to a common cold.
cCMV can be diagnosed but must be identified within 3 weeks of birth to distinguish between acquired CMV, which does not cause any long term problems.
Hearing loss in cCMV can be immediate (failed newborn hearing screen), delayed onset (up to teenage years), progressive (getting worse over time), asymmetric (affecting each ear to a different degree), and fluctuating.
Identification of cCMV allows for early intervention for hearing loss to prevent associated speech, language, and learning delays as well as careful monitoring over time for possible hearing changes.
cCMV is treatable with antivirals in babies who do exhibit symptoms.
North Carolina has a CMV workgroup comprised of Department of Health and Human Services, early hearing detection and intervention (EHDI), pediatric otolaryngology, pediatric audiology, pediatric infectious disease and parent advocates. The mission is to promote education, research, and support to develop standardized protocols to test for cCMV. Duke pediatric otolaryngology is actively involved with the NC CMV taskforce and has participated in several statewide webinars on this topic.
For more information about CMV visit:
Give to Duke Head and Neck Surgery & Communication Sciences
A gift to the Department of HNS&CS is a gift of knowledge, discovery, and life.