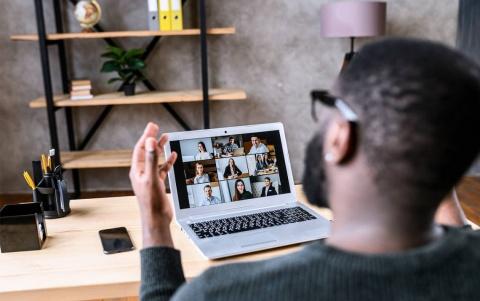 Duke experts share tips to prevent voice problems due to more virtual calls
Sherilynn Black was well-prepared for Duke's Living While Black symposium last summer when Black members of the Duke community shared personal stories of racism and discrimination and presented research on racial inequities.
In the week leading up to the event, she spent nearly 12 hours a day on Zoom, organizing themes for sessions, troubleshooting technical issues and preparing messages. As the event drew near, she developed a scratchy throat but didn't think much of it until she woke up the morning before the event with no voice.
"Nothing was coming out," said Black, associate vice provost for Duke Faculty Advancement. "I managed to participate in the event the next day, but my voice seemed to never recover. I was a bit hoarse through the rest of the summer." 
Black received treatment at Duke Voice Care Center, where she worked with Cristen Paige, to recover her voice. Paige, a speech language pathologist, gave Black a series of throat and tongue stretches to do daily and asked her to rest her voice between meetings, to complement her voice exercises. 
Paige said her colleagues at the Duke Voice Care Center have seen patients who are facing new challenges with their voices because of a reliance on virtual meetings due to the pandemic. In online settings, meeting participants may speak over background noise or talk louder to compensate for streaming or other technical difficulties.
"When we're talking over the phone, on a video call or with a mask on, we tend to speak louder because we're trying to make up for the fact that we're not communicating face to face," Paige said. "That strains your vocal cords. It irritates them."
Paige explained that higher voice demands can lead to swelling and inflammation of your voice box. Hoarseness, strain and loss of vocal range are among symptoms of vocal issues, but here's how you can take care of your voice. 
Read the full article: 

How to Care for Your Voice in Online Meetings

Jonathan Black, Working at Duke 

January 27, 2021
Give to Duke Head and Neck Surgery & Communication Sciences
A gift to the Department of HNS&CS is a gift of knowledge, discovery, and life.