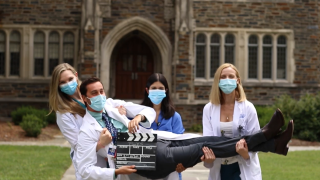 Photo to the left: Trainees during a video shoot for HNS&CS residency online campaign
Nationwide, residency programs faced the same dilemma in 2020: how can a program truly engage applicants and offer candidates an authentic representation of the resident experience when recruiting must take place entirely through a computer screen?
In the summer of 2020, Otolaryngology Residency Program Director Charles Woodard, MD, and Associate program Director Russel Kahmke, MD, met with the Section of Surgical Disciplines communications team to work on some creative solutions and develop a virtual recruitment strategy. With indoor filming options limited due to COVID-19 restrictions, an outdoor filming day was held in late August on the Davison Quad, with more than 50 members from across the department joining the production. Footage from the filming day was combined with faculty and resident interviews and footage of campus, creating an overview that offered candidates a behind-the-scenes look at the program even from afar.
Additionally, 5 members of the residency program were chosen to share their personal perspectives through filmed, socially-distanced Q&A sessions. Content was shared through the residency program website and in a social media campaign.
Get to Know Our Faculty and Residents
Faculty Spotlight: Dr. Howard Francis, Chair
Dr. Francis is the Richard Hall Chaney, Sr. Distinguished Professor of Otolaryngology and Chair of the Department of Head and Neck Surgery & Communication Sciences. On the vision for the department Dr. Francis says, "I wanted to become a department chair to create a department of the future, one that is committed to team science and bringing new perspectives to old persistent problems, while at the same time, giving a much higher return on investment in a time of limited resources."
Resident Spotlight: Dr. Emily Commesso
Dr. Commesso is a fourth-year resident in Otolaryngology. On why Dr. Commesso chose Duke for residency, "I come from a large family until I saw residency as an extension of my family. And now as a fourth-year resident, I can say that that still holds true where I feel that this is a group of people that I trust. They are extremely intelligent and knowledgeable, and I know that I can turn to my peers and my attendings."
Faculty Spotlight: Dr. Walter Lee
Dr. Lee is Chief of Staff for the Department of Head and Neck Surgery & Communication Sciences and Division Chief of Head and Neck Surgical Oncology. On the meaning of servant leadership Dr. Lee says, "Servant leadership in Otolaryngology training can simply be understood as thinking about others more than you think about yourself. That gives you a little flavor of what it's like in terms of our philosophy and our approach to residency training."
Faculty Spotlight: Dr. Nosayaba (Nosa) Osazuwa-Peters
Dr. Osazuwa-Peters is an Assistant Professor in Head and Neck Surgery & Communication Sciences and Director of Clinical Research Training. On why Dr. Osazuwa-Peters joined Duke, "It is not every day that you are able to have the perfect combination of people who are really, truly committed to their research and have the environment for productivity."
Residency Coordinator Spotlight: Lori Allsbrook
Lori Allsbrook is the program coordinator for the Otolaryngology Residency. On what diversity and inclusion means to her, "Diversity and inclusion to me means that you have to remember that everybody is important. It's also like a puzzle piece that everybody is different, but we're all important because we're going to make that one big picture."
Give to Duke Head and Neck Surgery & Communication Sciences
A gift to the Department of HNS&CS is a gift of knowledge, discovery, and life.