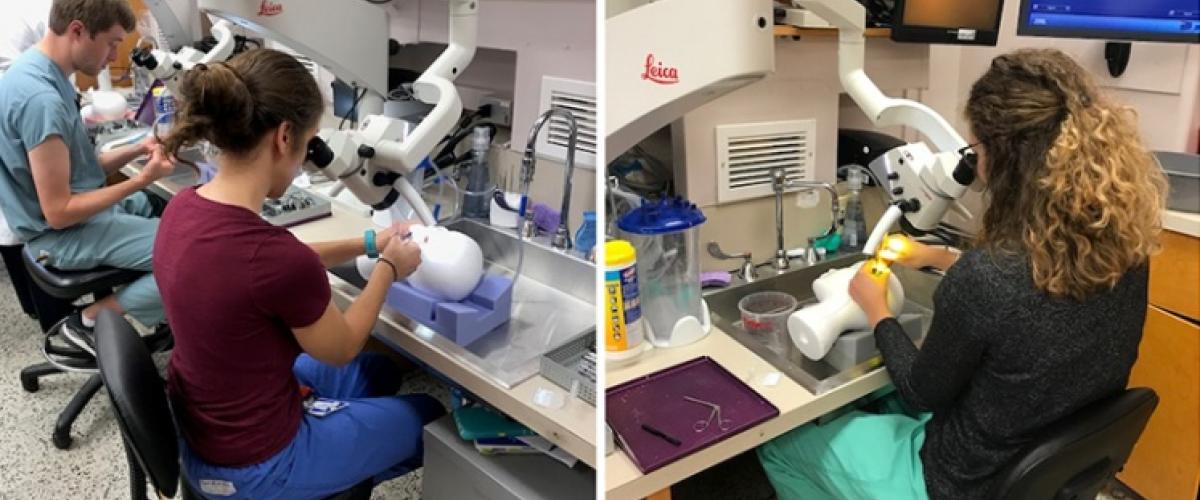 Otolaryngology Residency Program
The Duke Department of Head and Neck Surgery & Communication Sciences is a premiere academic otolaryngology program that excels in compassionate and extraordinary patient care, pioneering research, and excellence in education. Our residency program includes both a 5-year clinical track and a 7-year research track, providing training opportunities that prepare the next generation of surgeons and surgeon–scientists to be leaders in the field.
Neurotology Fellowship
Duke offers a one-year fellowship in neurotologic and otologic surgery. The fellowship encompasses all aspects of otological and neurotological surgical and clinical care, allowing fellows to gain experience with surgery for acoustic neuromas and other tumors of the skull base, as well as cochlear implantation and surgery for superior canal dehiscence and other causes of vertigo. Our fellows will gain practical experience in teaching residents at all of the Duke locations and the Durham VA hospital and have opportunities to participate in research that pushes the limits of knowledge in our field.
For information, please contact Linda Jackson at l.jackson@duke.edu.
Continuing Medical Education
The Duke Division of Otology, Neurotology, and Skull Base Surgery provides continuing medical education (CME) for providers at Duke and the surrounding Triangle area. Select examples of CME offerings are included below:
Otology Grand Rounds are held quarterly on Wednesday mornings at 7:30 am. For information, please contact Lori Allsbrook at lori.allsbrook@duke.edu.
The Vestibular Conference is held on the third Friday of every month at 7:00 am. For information, please contact Doug Garrison at doug.garrison@duke.edu.