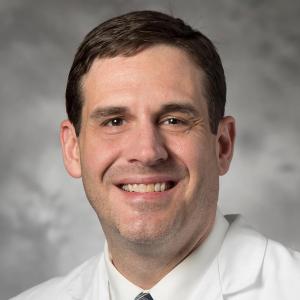 Principal Investigator
Associate Professor of Head and Neck Surgery & Communication Sciences

Contact Information
Office: 155 Baker House, Durham, NC 27710
Campus Mail: Box 3887 Med Ctr, Durham, NC 27710
Phone: 919-684-6271
Email: harrison.jones@duke.edu
Overview
Scientific Focus
Harrison N. Jones, PhD, is the Principal Investigator of the Human Motor Performance Laboratory. Our research focuses on the study of normal and disordered motor function to enhance understanding of pathophysiology, develop behavioral interventions, and identify optimal outcome measures. For example, in subjects with late-onset Pompe disease (LOPD), we were first to describe lingual pathophysiology manifesting as generalized tongue weakness in this population. Our work has established that lingual pathophysiology occurs commonly in LOPD and that this has functional effects on speech and swallowing.
Research support from NIH NIAMS allows us to continue our systematic investigation of use of respiratory muscle training (RMT) to treat persistent inspiratory and expiratory muscle strength in LOPD. Although additional research is necessary, preliminary data suggest RMT may be a viable behavioral treatment for persistent, often severe, respiratory muscle weakness. Similarly, we will test the usefulness of a broad repertoire of outcome measures to determine the optimal outcomes to capture benefits of RMT-induced respiratory strength increases.
Dr. Jones' clinical background is in medical speech-language pathology and he continues to see a broad range of clinical patients with communication and swallowing disorders across the lifespan. His own clinical practice and role as an educator/mentor for staff in the Division of Speech Pathology & Audiology allow Dr. Jones opportunities to translate his research into clinical programs.   
Key Projects Underway
An exploratory, placebo-controlled, double-blind randomized clinical trial examining the effects of respiratory muscle training (RMT) in patients with late-onset Pompe disease (LOPD) funded by the National Institute of Arthritis and Musculoskeletal and Skin Diseases (NIAMS) at NIH. This research is the critical next step in Dr. Jones' systematic investigation of the effects of RMT in Pompe disease. This work will extend his previously published findings by including a randomly assigned control group to test the effects of sham-RMT; investigating the effects of RMT-induced respiratory strength increases on meaningful outcomes like cough, breathing, and sleep; and extending the RMT detraining period from 3 to 6 months.
Determining the diagnostic utility of tongue pathophysiology in the differential diagnosis of LOPD. Prompt diagnosis of LOPD is vital for the early initiation of enzyme replacement therapy (ERT) and optimal patient outcomes. However, diagnostic delay is common in LOPD. A sign that is present early in the disease course of most patients with LOPD that is absent in most patients with other forms of acquired/hereditary myopathy could enhance the differential diagnosis of LOPD and allow prompt initiation of ERT. Data from Dr. Jones and his colleagues suggest that that involvement of the tongue musculature may be a sign with such properties. We will assess tongue structure and function using manual muscle testing (MMT), quantitative muscle testing (QMT), and ultrasound (US) in subjects with untreated LOPD, other acquired/hereditary myopathies, and a neuropathy control group.
A pilot study to determine safety/feasibility and establish preliminary estimates of the effect size associated with lingual muscle training (LMT) in subjects with LOPD and tongue weakness. Although data are available in the scientific literature detailing the use of LMT to strengthen the tongue and improve swallow outcomes in other patient populations, this study represents the first known attempt to use LMT in LOPD. Five subjects with LOPD will complete a 12-week LMT regimen using a new commercial product that allows control over treatment intensity, provides users with biofeedback, and provides automated adherence data for home-based training.
Two studies to document the developmental outcomes of children with Pompe disease treated with ERT, including instrumental and auditory-perceptual assessments of motor speech function. Through collaboration with the Duke Pompe disease program, this work will include imaging of the brain to allow evaluation of the relationship between nervous system findings and developmental outcomes including speech production.
The analysis of the perceptual speech features of adults and children with Down syndrome. This work will enhance the efficiency of assessment and treatment of speech deficits in people with Down syndrome, as communication impairments are widespread and represent a significant social and vocational challenge. Related work includes research to determine the effects of an intensive six-week speech treatment on speech intelligibility in adults and children with Down syndrome.
Development of next-generation respiratory muscle training technology through collaboration with faculty, staff, and students in Biomedical Engineering/Mechanical Engineering. Primary goals include developing advanced safety features and enhancing control over treatment intensity to advance the clinical use and scientific study of RMT.
Selected Achievements
Dr. Jones provided the first reports describing the effects of respiratory muscle training (RMT) in infantile-onset Pompe disease and late-onset Pompe disease (LOPD). Preliminary findings demonstrated marked, persistent increases in respiratory strength following an intensive 12-week RMT regimen in 8 adults and 2 children with Pompe disease.
Dr. Jones and his collaborators have established the presence of bulbar muscle disease that manifests as lingual weakness in patients with LOPD (as well as glycogen storage disease type III). These novel findings have shown that lingual weakness in LOPD occurs early in the disease course, is common, and leads to functional influences on speech and swallowing. The presence of lingual pathophysiology in LOPD expands understanding of phenotype, disease distribution, and assessment/management.  
Dr. Jones' has described oropharyngeal swallowing disorders (dysphagia) in infants and children with infantile-onset Pompe disease and adults with LOPD. While dysphagia is a novel finding in LOPD, its presence is more widely recognized in infantile form of the disease and his work in this area provides the most comprehensive data available in the literature.
Dr. Jones has contributed to the understanding communication and motor development and function in of the effects of infantile-onset Pompe disease on. This work demonstrates cognitive and language function/development as strengths in this population, and suggests that speech and motor development are sources of substantial disability. 
Contact Us
Harrison Jones, PhD
919-681-1852
harrison.jones@dm.duke.edu
Lab Members
Key Faculty Collaborators
Staff
Kelly Crisp, MA, CCC-SLP - Research Speech Pathologist
Kaylea Nicholson, MA, CCC-SLP - Research Speech Pathologist
Kim Irby, MS, CCC-SLP - Research Speech Pathologist
Students
Kunal Potnis: Duke University '17, Biology and Economics
Harini Sridhar: Duke University '18, Biology and Computer Science