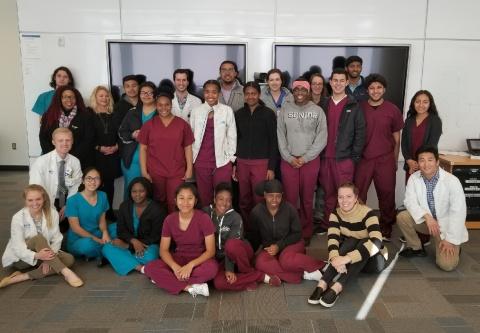 The Department of Surgery's Academic Success Through Surgical Education and Training (ASSET) program recently partnered with the Duke Health Career Academy (HCA) to provide an HCA Field Trip for high school students at the Surgical Education and Activities Lab (SEAL). Twenty-one students from the HCA participated in the activity.
During the workshop, the students performed activities at different stations throughout the SEAL, including endoscopy, laparoscopy, DaVinci robot training, ultrasound, and intubation. Duke medical students from the General Surgery Interest Group (GSIG) trained at the SEAL in preparation for the activity and led the stations during the field trip. Dr. Sabino Zani Jr. delivered the Keynote Address and the closing remarks, discussing surgery and surgical skills while sharing his career pathway to becoming a surgeon.
Special thanks to the co-presidents of the Duke HCA, Reed Kamyszek and Keven Ji, to the station leaders, Cosette Dechant, Kristen Rhodin, Sitharthan Sekar, Kyle Freischlang, Amanda Nash, Justin Rucker, and Hanna Kemeny, to Dr. Sabino Zani, to the SEAL team, and to Dr. Linda Cendales for the collaboration to provide the students an irreplaceable experience.