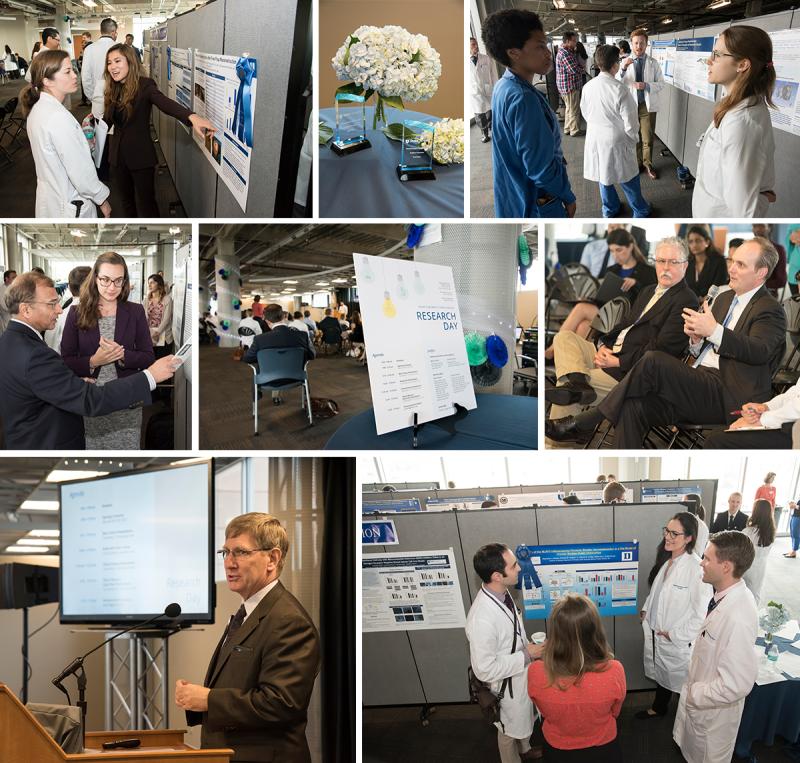 The Department of Surgery held its 3rd Annual Research Day April 25. The department holds this event annually to advance its mission of improving patient care through research and training the next generation of surgeon-scientists. The event recognizes the accomplishments of fellows, residents, and students engaged in clinical or basic and translational research through the department. This year, over 90 abstracts were submitted by faculty and trainees for oral and poster presentations.
Ronald J. Weigel, MD, PhD, MBA, EA Crowell Jr. Professor and Chair of Surgery at the University of Iowa Carver College of Medicine, served as guest judge and gave the inaugural Hunter McGuire Sweaney Lectureship in Surgery. Through his estate, Dr. Hunter Sweaney endowed a fund to establish the lectureship to be shared by both the Duke University School of Medicine and the University of North Carolina School of Medicine. Dr. Weigel presented on "The Biological Basis of Modern Surgical Practice."
Congratulations to this year's winners! We look to forward to another successful event next year.
Winners
Basic Science
Implantable Oxygen Platform for Continuous, Real-Time Detection of Vascular Perfusion and Ischemia
Mohamed Ibrahim, MD
Ryan Schweller, PhD, Mahmoud Mohamed, David Powers MD, DMD, Bruce Klitzman, PhD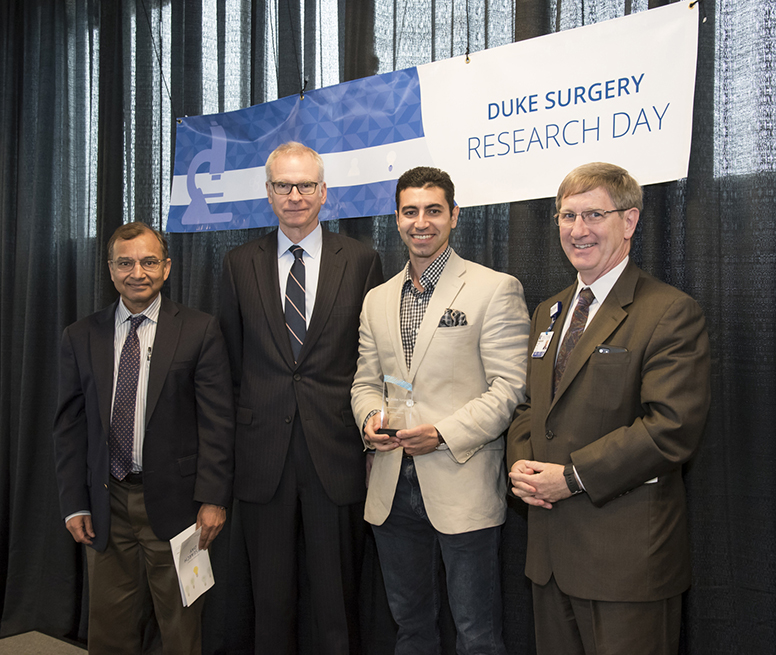 Clinical Research
Just a Nudge: Applying Behavioral Incentives to Engage Residents in Quality Improvement Education
Ashley Wietsma, MD
Eugene Cone, MD, Johnathan Bergman, Tannaz Moin, Arlene Fink, Jonathan Routh, MD, MPH, B. Price Kerfoot, MD, Charles Scales Jr., MD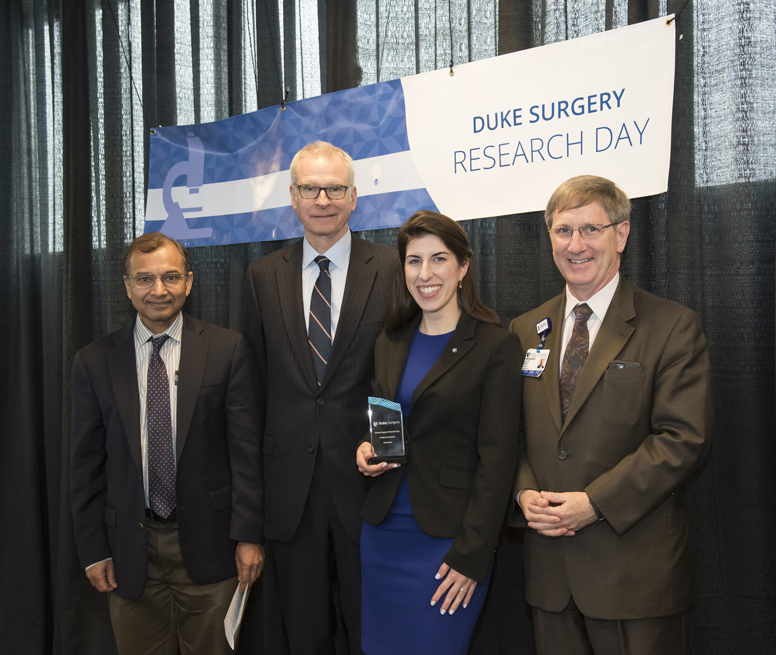 Podium Presentations
Basic Science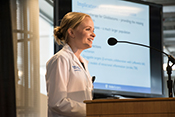 S1P1 Loss Mediates Bone Marrow T-Cell Sequestration in the Setting of Intracranial Tumors
Cosette DeChant
Pakawat Chongsathidkiet, Karolina Woroniecka, Hanna Kemeny, Kristen Rhodin, Xiuyu Cui, Peter Fecci, MD, PhD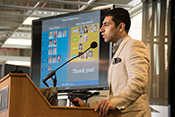 Implantable Oxygen Platform for Continuous, Real-time Detection of Vascular Perfusion and Ischemia
Mohamed Ibrahim, MD
Ryan Schweller, PhD, Mahmoud Mohammed, David Powers, MD, DMD, Bruce Klitzman, PhD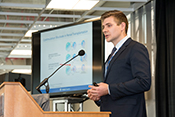 Rhesus-Specific Anti-Thymocyte Globulin as an Adjuvant to Costimulatory Blockade-Based Immunotherapy
Michael Mulvihill, MD
Brian Ezekian, MD, Qimeng Gao, Kannan Samy, MD, Robert Davis, MD, PhD, Frank Leopardi, Aaron Belli, W. Flores, Adam Buzby, MBA, Keith Reimann, DVM, Brad Collins, MD, Allan Kirk, MD, PhD, FACS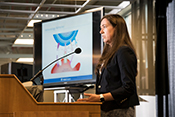 Targeting Immunostimulatory Pathways in Combination with Multi-Checkpoint Blockade Improves Survival in Intracranial Neoplasms
Kristen Rhodin
Karolina Woroniecka, Pakawat Chongsathidkiet, Xiuyu Ciu, Hanna Kemeny, Cosette Dechant, Peter Fecci, MD, PhD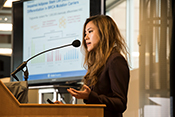 Tumor Microenvironment in CRISPR: Cas9-Mediated BRCA1 Knockdown Adipose Stem Cell Model
Ruya Zhao
Rayan Kaakati; Xingjian Liu, PhD, Fang Li, PhD, Andrew Lee, Robin Bachelder, PhD, Chuan-Yuan Li, PhD; Scott Hollenbeck, MD
Clinical Research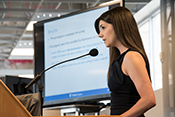 Patient Preferences for DCIS Treatment Strategies: A Discrete-Choice Experiment
Brittany Campbell
Jui-Chen Yang, MEM; Juan Marcos Gonzalez, PhD; Shelby Reed, PhD; Laura Havrilesky, MD, MHSc; F. Reed Johnson, PhD; Shelley Hwang, MD, MPH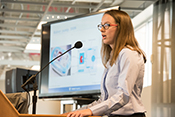 Pumping Donor Kidneys Reduces Delayed Graft Function and Improves Allograft Survival
Amanda Nash
Mariya L. Samoylova, MD, Todd Brennan, MD, MS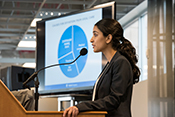 Geospatial Econometric Exploration of Risk Factors for Loss to Followup in Cleft Care
Banafsheh Sharif-Askary
Peter Bittar, Alfredo Farjat, PhD, Beiyu Liu, PhD, Joao Vissoci, PhD, Alexander Allori, MD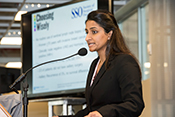 Axillary Nodal Evaluation in Elderly Breast Cancer Patients: Potential Effects on Treatment Decisions and Survival
Nina Tamirisa, MD
Samantha Thomas, MS, Lola Fayanju, MD, MA, MPHS, Rachel Greenup, MD, MPH, Laura Rosenberger, MD, Terry Hyslop, PhD, Shelley Hwang, MD, MPH, Jennifer Plichta, MD, MS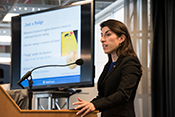 Just a Nudge: Applying Behavioral Incentives to Engage Residents in Quality Improvement Education
Ashley Wietsma, MD
Eugene Cone, MD, Jonathan Bergman, Tannaz Moin, Arlene Fink, Jonathan Routh, MD, MPH, B. Price Kerfoot, MD, Charles Scales Jr., MD
Posters of Distinction
Basic Science & Translational Research
Synovium Production of Kynurenine in Arthritic Knee Joints: Implications for Treating Comorbid Pain and Depression in Osteoarthritis
Angel (Fangyu) Chen, Nicholas Allen, Ivan Spasojevic, PhD, Michael Bolognesi, MD, Samuel Adams Jr., MD
Immune Pathway Dysregulations in Inflammatory Breast Cancer: Implications in Cancer Health Disparity
Whitney Lane, MD, Steven Van Laere, PhD, Gayathri Devi, PhD
Targeting the DNA Synthesis Pathway with a Novel RR Inhibitor in Breast Cancer
Pranalee Patel, Gayathri Devi, PhD, Renzhi Zhan, Ben Mirman
Pharmacological Inhibition of the NLRP3 Inflammasome Prevents Bladder Decompensation in a Rat Model of Chronic Bladder Outlet Obstruction
Stephanie Sexton, MD, Francis Hughes Jr., PhD, Patrick Leidig, MD, Huixia Jin, Todd Purves, MD, PhD

Clinical Research
Analgesic Prescribing Patterns for Acute Symptomatic Urinary Stones in US Emergency Departments
Leonid Aksenov, Ashley Wietsma, MD, Michael Lipkin, MD, Jonathan Routh, MD, MPH, Glenn Preminger, MD, Charles Scales Jr., MD
Parental Preferences for the Treatment of Vesico-Ureteral Reflux: A Best-Worst Scaling Analysis
Zachary Dionise, Glenn Preminger, MD, Michael Lipkin, MD
Unexpected Cardiac MRI Findings in Patients Presenting to the Emergency Department for Possible Acute Coronary Syndrome
David Painter, MD, Cole Ziegler, Joseph Borawski, MD, Raymond Kim, MD, Han Kim, MD, Alexander Limkakeng Jr., MD, MHS
Significant Delay in Adjuvant Chemotherapy Still Confers a Survival Advantage in Stage III Colon Cancer
Megan Turner, MD, Norma Farrow, MD, Kristen Rhodin, Zhifei Sun, MD, Mohamed Adam, MD, Christopher Mantyh, MD, FACS, John Migaly, MD, FACS
Return to Operating Room Outcomes after Free Flap Reconstruction
Ruya Zhao, Matthew Lyes, Scott Hollenbeck, MD
Quick Shot Presentations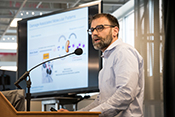 Innate Immune Activation in Deceased Organ Donors
Justin Pollara, PhD
Assistant Professor of Surgery
Division of Surgical Sciences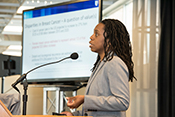 Patient-Reported Distress in Breast Cancer Patients: A Tool to Improve Care and Reduce Disparities
Oluwadamilola "Lola" Fayanju, MD, MA, MPHS
Assistant Professor of Surgery
Division of Surgical Oncology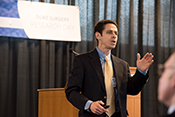 Engineering New Imaging Technologies
Joshua Broder, MD
Associate Professor of Surgery
Division of Emergency Medicine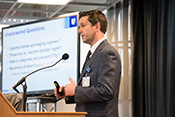 Improving Care for Newborns with Spina Bifida in the United States
Jonathan Routh, MD, MPH
Paul H. Sherman, MD, Associate Professor of Surgery
Division of Urology