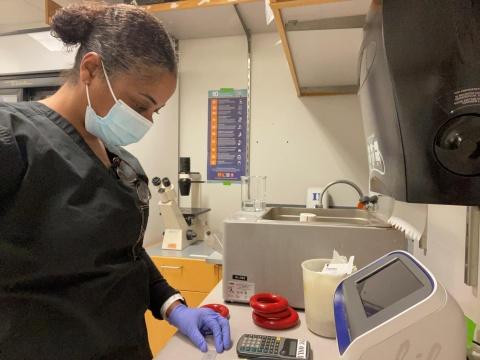 Photo to the left: Dr. Tammara L. Watts conducts research in her lab during the COVID-19 pandemic
Head and Neck Surgery & Communication Sciences transitioned from a division to an independent department in 2019. A key aspect of the strategic plan for the new department has involved clinician–scientist recruitment to continue the department's mission of "advancing and sharing knowledge in the field."
As a result, the department has seen tremendous growth in research productivity and external research funding. Major extramural funding has grown from 3 grants in 2018 to 11 grants in early 2021, including 7 active grants from the National Institutes of Health (NIH), one pending NIH award, and an industry-funded clinical trial. The department currently ranks #18 among surgery departments nationwide in NIH funding. Current annual NIH funding to the department exceeds $2.5 million.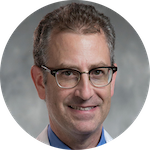 "Coupling the delivery of outstanding clinical care with clinical, translational, and basic research can be a challenge, but the culture within the department and institution provides an ideal environment for this mission," says Brad Goldstein, MD, PhD, FACS, Vice Chair for Research. "The addition of a new 7-year research track for otolaryngology trainees committed to a clinician–scientist academic career path reflects the new department's commitment to scientific discovery. Duke HNS&CS faculty research programs in population health, global health, clinical research, and basic science, along with collaborations across the School of Medicine, offer unparalleled opportunities for our trainees."
Preparing New Research Faculty for Success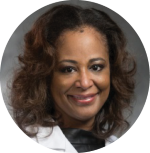 Tammara L. Watts, MD, PhD, joined the faculty in the Department of Head and Neck Surgery & Communication Sciences in September 2019. As an early stage career investigator with the NIH, Dr. Watts had to meet strict deadlines to continue her NIH research. The proposal for her research project was due in June 2020; however, at the onset of the COVID-19 pandemic, Duke shut down all research laboratories in an effort to contain the virus and prevent virus spread on campus. Dr. Watts' research came to a screeching halt.
"The paradigm of one step forward and two steps back does not apply to COVID-19," says Dr. Watts. "It is more like for every step I had taken forward to get my lab restarted, hire staff, and develop assays ceased in an instant and pushed me back 200 steps."
The labs began to reopen in August, two months after her proposal's deadline. With the introduction of new safety procedures, Dr. Watts and her lab staff had to stagger their time in the lab. This protocol often required one person to come in at 5:00 am for half the day while another staff member arrived for the last half of the day. Because her lab staff handles human tissue, they anticipate being able to receive the COVID-19 vaccine in the near future. Although the lab and all team members are healthy, actively practice social distancing, and have somewhat of a "new normal" routine, her research team still faces obstacles due to the pandemic.
Improving Therapies for Head and Neck Cancer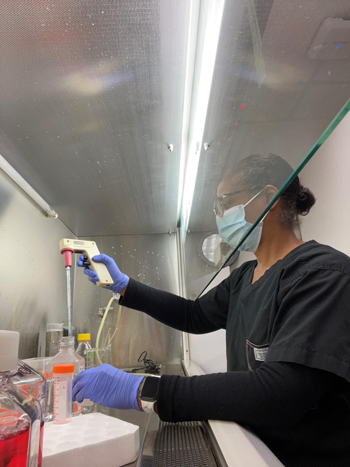 Dr. Watts and her collaborators study chemotherapy and radiation resistance in patients with cancers of the head and neck. The head and neck oncology research team consists of three scientists: Dr. Watts, Dr. Yvonne M. Mowery in the Department of Radiation Oncology, and Dr. Jennifer Choe in the Division of Medical Oncology. Dr. Watts is interested in understanding the relationship between stromal cells and tumor cells. Individual variations in stromal cells may render certain patients more susceptible to aggressive tumors that can recur following surgery. The team wants to determine how stromal cells contribute to chemotherapy and radiation resistance in head and neck cancer, particular oral cancer.
"We have patients who can have the same exact clinical stage, same surgery, same pathology where the margins show no evidence of cancer," explains Dr. Watts. "One patient will be cured and one patient will recur and go on to likely die of that cancer. We don't know why that is."
"We are comparing those patients from a standpoint of how the stromal cells and cancer-associated fibroblasts contribute to chemotherapy and radiation resistance. We don't know the answer as to why somebody does really well and somebody does really poorly with the same stage of disease, comparing apples and apples. I do the same surgery for both, and I have somebody do just great and six months later the tumors are right back there where we cut them out."
Dr. Watts hopes that the results from the study will help improve therapies for patients with head and neck cancer. The team is working to change outcomes that have remained largely unchanged over many decades.
"By understanding those pathways, we can use drugs to disrupt that communication that we think may improve the therapy response," she says.
Promoting Diversity and Inclusion in Research
As part of its core values, the department fosters an environment of diversity, equity, and inclusion. In addition to discussing relevant scientific topics, weekly group lab meetings now include topics that focus on diversity and inclusion in science. Team members discuss how they are each affected and what diversity and inclusion looks like to them, including what it means for women in the biomedical sciences.
"I think that speaks to the values of the institution," says Dr. Watts. "We continually promote and support initiatives to improve our understanding of how our own implicit biases affect how we interact with others."
Since her arrival at Duke at the end of 2019, Dr. Watts says the support she's received from the scientific community has been "shocking" in the best sense of the word in that it has been completely unexpected and has made a tremendous impact on her ability to navigate the uncertainty due to the COVID-19 pandemic.
"The scientists here do a lot of cutting-edge work, and I wasn't sure what to expect, but the open arms and the desire to want to help me succeed has made managing COVID-19 much easier."
Give to Duke Head and Neck Surgery & Communication Sciences
A gift to the Department of HNS&CS is a gift of knowledge, discovery, and life.