Researchers in the Duke Department of Head and Neck Surgery & Communication Sciences conduct studies to develop and test assistive technology (AT) devices that individuals with speech and auditory disorders can use to better communicate.
A major component of our program is the development of the Rehabilitation Engineering Research Center on Communication Enhancement (AAC-RERC) that seeks to improve augmentative and alternative communication technologies for persons with significant communication disorders.
AAC-RERC is the leading national center for AAC; this multi-institutional collaboration is funded by the National Institute on Disabilities and Rehabilitation Research.
Kevin Caves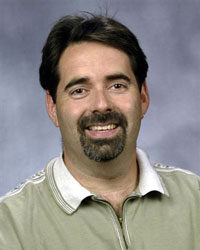 Kevin Caves is a rehabilitation engineer on the faculty in the Departments of Head and Neck Surgery & Communication Sciences, Medicine, and Biomedical Engineering at Duke University in Durham, NC. His research interest is in the development and use of software and technology to address the needs of researchers and people with disabilities. His team is currently conducting research and developing solutions using technology to address clinical and research problems in populations, including older adults and people with mobility and cognitive disabilities. Projects include the development of an inexpensive and easy-to-use device to measure gait speed, the development of software and sensors to report the positions and amount of activity of acutely hospitalized patients, a smart speaker tool based on an Alexa skill, mobile app, website, and internet of things (IoT) devices to deliver evidence-based strategies to combat the symptoms of both traumatic brain injury (TBI) and post-traumatic stress disorder (PTSD) in veteran populations. He has support from a diverse pool of sponsors, including the National Institute on Disability and Independent Living and Rehabilitation Research, the Claude D. Pepper Older Americans Independence Center at Duke, the National Institute on Aging, and internal programs at Duke, including the Duke Institute for Health Innovation (DIHI). 
Current Studies
Ongoing studies related to assistive and augmentative technologies for individuals with speech and hearing disorders include:
Student Design Project
Kevin Caves, ME, ATP, RET, and Tom Jakobs, ME, from InvoTek will develop online training modules and support activities for engineering students and university faculty.
Wheeled Mobility in Everyday Life (RERC-4a)
Kevin Caves, ME, ATP, RET, is working with a team at the Durham VAMC including Helen Hoenig, MD, that is examining how mobility performance in real life tasks and environments is impacted by the use of specific types of wheeled mobility devices (wheeled walker, manual wheelchair, power wheelchair/scooter).
Visit clinicaltrials.gov to find more information related to the Wheeled Mobility in Everyday Life study.
Towards Clinical Acceptability: Enhancing the P300-based Brain-Computer Interface
Kevin Caves, ME, ATP, RET, is collaborating with Leslie Collins, PhD, from the Pratt School of Engineering, and Eric Sellers of East Tennessee State University to improve the P300 Speller system. The aim of the research is to provide an effective means of communication for individuals with locked-in syndrome.